---
Zestaw Spektrometryczny z Modułem Absorpcji - Stanowisko Edukacyjne - typ: U22031
Digital spectrometer for quantitative analysis of emission and absorption spectra, for recording transmission curves and performing measurements in calorimetry and kinetics. Incident light from a fibre-optic cable is dispersed into a spectrum by a Czerny-Turner monochromator and projected from there onto a CCD detector. The entry slit is built into the casing. User-friendly measurement and evaluation software enable simultaneous recording and analysis in real-time. The built-in software for Windows 2000/XP/Vista/7/8 32- and 64-bit versions starts running as soon as the sensor is connected to the computer via a USB cable. Includes plug-in power supply and holder for fibre-optic cable.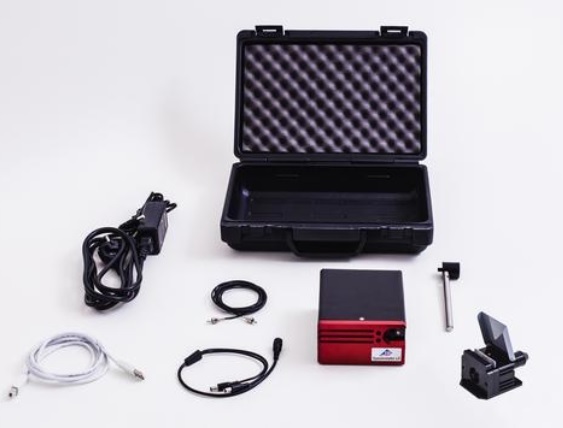 Absorption Chamber is a multi-functional module for recording transmission or absorption measurements using 4-ml cells (10 x 10 x 40 mm³), objects in slide format (50 x 50 mm) or objects in coin format (40 mm diam.). Up to two slide-format objects and one coin-format object can be analysed simultaneously and compared. With built-in light source for the spectral region from 350 – 1000 nm. In metal casing resistant to chemicals. For direct connection to digital spectrometers LD via fibre-optic cable. Refer also to experiment UE4020400.
Plug & play: no software installation or drivers required.




Connect up your spectrometer and the spectrum is obtained immediately.




Measurement and evaluation in real-time.




Simple and practical software with built-in wizards and powerful evaluation functions.




Internal memory for measured data.




Spectra of high quality and signal stability




Highly stable metal casing with built-in entry slit.




Internal beam paths and the principle of operation can be viewed by opening the lid of the casing.
Zagadnienia Realizowane przez Zestaw Edukacyjny:
Line spectra, continuous spectra

Black-body radiators, Wien's law

Emission spectrum of sodium

Transmission spectra of solid bodies and liquids