---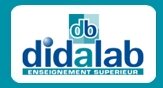 Eksperyment Millikana

- Stanowisko Edukacyjne, typ: EXP500010






Eksperyment Millikana – doświadczenie przeprowadzone w 1911 roku przez Roberta Millikana, w którym wykazał stałość ładunku elektronu i wyznaczył jego wartość. Millikan rozpylał w powietrzu krople oleju, które elektryzowały się podczas rozpylania po czym wpadały do kondensatora, gdzie ich ruch mógł być obserwowany przez mikroskop. Zamknięcie obwodu elektrycznego wytwarzało jednorodne pole elektryczne między poziomymi okładkami kondensatora. Pole to działało dodatkową siłą przeciwstawiającą się opadaniu kropli pod wpływem własnego ciężaru. Obserwowano spadanie kropli przy wyłączonym napięciu i ich ruch w górę przy włączonym. Na podstawie prędkości ruchu kropli możliwe było określenie sił działających na kroplę: grawitacyjnej, elektrycznej i siły oporu, a z nich – wartości ładunku kropli. Opracowując wyniki otrzymane z tego doświadczenia, Millikan stwierdził kwantyzację ładunków kropli. Ładunki te były wielokrotnościami podstawowej wartości – ładunku elektrycznego elektronu.
Opis Stanowiska

: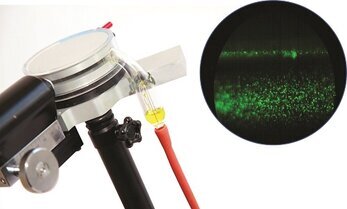 This experiment aims at repeating, in a simplified manner, the historical experiment by which Millikan in 1909 determined the exact value of the electron charge "e". It consists of studying the motion of a charged oil drop, subjected to the electric field of a parallel-plate capacitor, a white light source and a sighting device. This comprehensive pack is made up of several parts: a white light source and a sighting device, a mechanical/optical part, as well as a laser and a webcam allowing real-time observation of the phenomenon directly on your computer.
DETERMINING ELECTRON ELECTRIC CHARGE
With an atomiser, spray oil drops in a capacitor made of two light alloy plates. As they pass through two small holes drilled in the plastic holder of the capacitor, some drops will be charged by electrostatic friction. Once they have penetrated between the two flat capacitor plates, these oil drops are observed through a sighting device. The latter is equipped with a long focus lens to single out the oil drops falling along the capacitor axis and standing out as shiny dots against a dark background. Its eyepiece is engraved to a tenth of a millimetre. A webcam supplied with a dedicated software, directly placed behind the sighting device, allows real-time display of the phenomenon on the computer. The pack is secured to a base by a telescopic rod designed to set the sighting device at a height suitable for the user. First, we spray oil drops without charging the capacitor plates. Then, once the vortex motion has ceased, we apply a voltage to the capacitor terminals and identify the drop or drops that are blocked by this field (these are the ionised drops). The voltage ensuring complete immobilisation of the drop is read. Voltage is cut, and at the same time the chronometer (integrated in the Millikan generator) is triggered. The time required by the drop to cross a certain number of micrometer graduations is measured. Oil drop electric charge is determined by calculating its fall velocity. We observe that, according to oil drop size and velocity, this is always a multiple of the electric charge e, the elementary electron charge.
SUBJECTS APPROACHED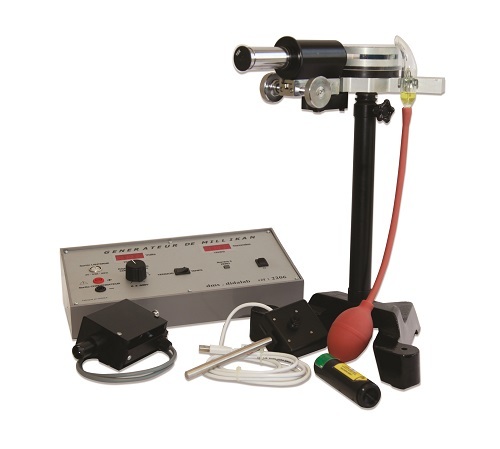 Measuring electron electric charge
Demonstrating electron quantum nature
Implementing a sighting device
Didactic observation on webcam
PSD022040 Milllikan apparatus x1

PSD022060 Millikan generator x1

POD010030 Pedagogical webcam x1

POD013132 Laser diode, green x1

Computer is required fot the webcam
Stanowisko dostarczamy wraz